I recently went to the Outer Banks, North Carolina at the northernmost tip of the State near the Virgina State line... It is a really neat place! Feral horses which escaped a Spanish ship have lived there for over 300 years! It was truly amazing place! If you have never been to the Outer Banks it is basically a strip of sandy islands out in the middle of the sea, almost like a 2nd coast line... a strange and wonderful place! While there I noticed many rare and interesting botanicals including Opuntia cacti and something known as "Yaupon"...
The Outer Banks-
I saw this magical plant, Ilex vomitoria, everywhere in the Outer Banks and even collected a few specimens for cultivation! This got me interested in the Ilex genus, Holly plants.
Ilex vomitoria ~ "Yaupon"
Ilex vomitoria "Yaupon" is a species of holly native to southeastern North America, occurring in United States from Virginia to Florida, it is concentrated on the coast of the Carolinas and is prolific in the Outer Banks.
Prior to the 19th century, the black drink was consumed during the daily deliberations of the village councils and at all other important council meetings. Creeks, Cherokees, Choctaws, and others believed it purified the drinker and purged him of anger and falsehoods. Black drink was prepared by special village officials and served in large communal cups, frequently made of whelk shell. The men in council were served in order of precedence, starting with important visitors. They consumed large quantities at a sitting. Afterward, they purged themselves by vomiting.
Many tribes across the Southeastern United States continued using the black drink long after the invasion of European cultures. Creeks, Cherokees, Choctaws, Ais, Guale, Chickasaws, Chitimacha and many others are documented users of the drink. Although rituals varied amongst the different tribes, there are common traits which span most of the tribal variations. Black drink was forbidden to women, and it was taboo for them to even help in its preparation. The drink, after its preparation, was passed out to the highest status person first, then the next highest status, and so forth. During each persons turn to drink, ritual songs were sung (Yahola, the ritual name Asi Yahola or Black Drink Singer is corrupted into English as Osceola). The black drink was a purifier, that removed sin and blemish from the drinker, and as such was never taken casually, even when taken daily. Some tribes practiced ritual vomiting after its consumption, possibly to heighten its purgative and purifying powers, by expelling contamination from the body. The sharing of tobacco was also a part of the ritual. The Black Drink reportedly induced vomiting during Cherokee purification ceremonies, but as explained above, this behavior is likely to have been deliberate or the result of the quantity imbibed, not due to the chemical properties of the drink itself. n the 1830s, the use of the black drink was forgotten and abandoned by many tribes when they were removed to Oklahoma, where the Yaupon Holly does not grow.
Ilex guayusa ~ "Guayusa"
Three species of the Holly genus Ilex yield caffeine. The best known is Yerba Maté, Ilex paraguariensis, the national drink of Argentina. The second is the previously discussed Ilex vomitoria, the only caffeine containing plant native to North America. The third and by far the most mysterious is Ilex guayusa. Ilex guayusa, commonly known as "guayusa" or "wayusa" is an Amazonian tree of the holly genus, native to the Amazon Rainforest.
"The Jivaro say guayusa is so habituating that before it is offered to a visitor, she is warned that once she drinks it, she will ever after return to the Ecuadorian Jungle" - Michael Harner
Guayusa is used by people of the Amazon basin to make an energizing tea and as a herbal medicine. It also has the interesting effect of inducing lucid dreaming. For this reason, it is known as the "watchman's plant", as even when sleeping you are aware of your external surroundings. For those interested in shamanic dreaming this is certainly the plant to explore. It is used along with Ayahuasca to help ease bitterness, to stay awake during Ayahuasca ceremonies, and to help prevent hangover effects.
In addition to drinking cups of guayusa like many Americans drink coffee, indigenous hunters will drink guayusa to sharpen their instincts and call it the "Night Watchman" because it helps them stay alert and awake all night. For many Ecuadorian indigenous people, the morning drinking of guayusa is a social ritual.
Ilex guayusa has been collected only rarely by botanists and is known exclusively as a cultivated plant. According some botanist it has never been found in flower. The use of Guayusa is very ancient, a 1,500-year-old bundle of Ilex guayusa leaves was found by famous Ethnobotanist Richard Evans Schultes in a shaman's tomb high in the Bolivian Andes, far beyond the natural range of the plant.
In addition to caffeine, Guayusa also contains guanidine, a proven antihyperglycemic and antihypertensive compound that stabilizes blood sugar levels and relaxes the body. Functioning as a balanced stimulant, some Amazonian Tribes also say that Guayusa promotes restful sleep and good dreams. Unlike coffee, it is said to be good for excessive acidity and other problems in the stomach and bile. It is both energizing and relaxing at the same time and develops mental strength. The plant can contain more than 2.0% caffeine, making it the most potent caffeine producing botanical on the planet.
Ilex paraguariensis ~ "Yerba Mate"
The infusion called Maté is prepared by steeping dry leaves (and twigs) of the Yerba Maté plant in hot (or sometimes cold) water, rather than in boiling water like the Black Drink made from Ilex vomitoria
Yerba maté, Ilex paraguariensis, is a species of the Holly family native to subtropical regions of South America. It was first scientifically classified by Swiss botanist Moses Bertoni, who settled in Paraguay in 1895.
The flavor of brewed Yerba Maté is strongly herbal, and grassy, reminiscent of some varieties of green tea. Many consider the flavor to be very agreeable, but it is generally bitter if steeped in boiling water (especially if stirred or disturbed during brewing), so it is made using hot but not boiling water. Unlike most teas, it does not become bitter and astringent when steeped for extended periods, and the leaves may be infused several times.
Einstein drinking Yerba Maté-
Ilex paraguariensis is grown and processed mainly in South America, more specifically in Argentina, Paraguay, Uruguay and Brazil. The Guaraní are reputed to be the first people who cultivated the plant; the first Europeans to do this were Jesuit missionaries, who spread the drinking habit as far as Ecuador and Chile. When the Yerba Mate is harvested, the branches are dried, sometimes with a wood fire, imparting a smoky flavor. Then the leaves and sometimes the twigs are broken up. There are many brands and types of Yerba Mate, with and without twigs, some with low powder content. The plant Ilex paraguariensis can vary in strength of the flavor, caffeine levels and other nutrients depending on whether it is a male or female plant. Female plants tend to be milder in flavor, and lower in caffeine. They are also relatively scarce in the areas where Yerba Mate is planted and cultivated, not wild-harvested, compared to the male plants.
Ilex kudingcha ~ "Ku Ding"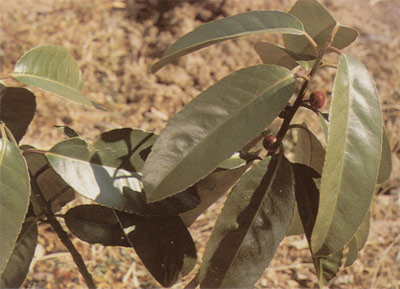 Another healing Holly from China, this one however, does not contain caffeine.