Sprouting seeds is an excellent way of having year round fresh local produce for salad. Soaking seeds releases the enzyme inhibitors which then allows them to grow edible shoots.

We make our own salad sprouts and I thought this may be of interest to some.
There are many things that we can sprout, including, nuts, seeds and grains. I am going to specifically focus on alfalfa, broccoli and clover sprouts here.
Step one:
Place a large handful of sprouts in large jar. I use a two litre jar. If you have a smaller jar then experiment with less seeds.

Step two:
Soak the seed for atleast six hours (I usually leave them into soak over night). Use spring or filtered water.
Step three:
Place muslin (or fine mesh) over the top of the jar and hold securely in place with an elastic band, drain off the soak water and rinse until the water is clear.

Step four:
Allow any excess water to drain from the jar by tilting upside down at an angle (I leave it on my dish draining rack for a half hour or so). Keep the jar in a light airy place in the kitchen or utility room (I leave it on the kitchen bench).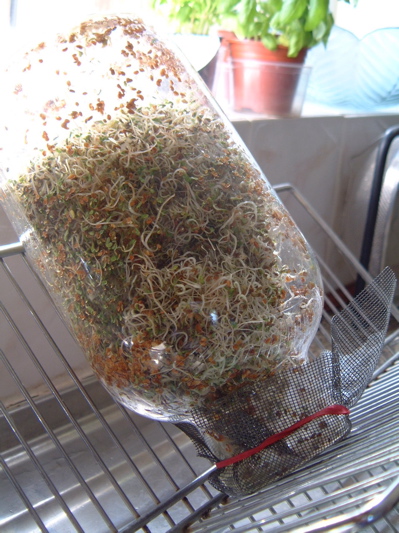 Step five:
Rinse sprouts through and drain as in step four, atleast once per day (in warm weather I recommend rinsing twice a day).
Step six:
The sprouts should be ready in about five or six days time when you begin to see green tips on the ends. At this point you need to remove the brown husks. Empty contents of jar into a large bowl. Fill with water until almost full. Agitate the water to make the husks rise to the surface. Spoon out the husks, or splash over the edge into the sink (losing a few sprouts in unavoidable unless you are really meticulous). Fish out the sprouts by hand and put into a sieve. Tip out the husks in the bottom of the bowl. Rinse out the bowl and repeat, removing as many husk as possible. Allow the end product of sprouts to drain free of water through a sieve.

Step seven:
Store in a sealed container in the fridge and they should last for a good five days. (Tip - if they are now sufficiently drained of water they will go soggy, so make sure you drain them well).